CD Lights Joins NRCHA Elite Sires

Another elite stallion has joined the National Reined Cow Horse Association Million Dollar Sire ranks, as offspring of CD Lights (CD Olena x Delight Of My Life x Grays Starlight), officially pass the seven-figure earnings milestone in the reined cow horse arena, winning a combined $1,033,877. CD Lights is the 17th stallion to achieve NRCHA Million Dollar Sire status.

Known to many in the performance horse industry by his nickname, "Boss," CD Lights was foaled in 1999. He is owned by his breeder, Danny Motes, and leading National Cutting Horse Association professional Winston Hansma, Weatherford, Texas. Trained and shown by Hansma, CD Lights earned $234,000 in five seasons of NCHA competition. He became a finalist at 14 major NCHA limited age events, including the 2002 NCHA Futurity Open and the 2003 NCHA Derby Open. Another career accolade for CD Lights was marking a 229 to win the 2006 NCHA World Finals Championship, after which the stallion was retired from showing.

The first full CD Lights foal crop arrived in 2005, and as 3-year-olds, proved they had inherited their sire's superior physical ability and disposition by earning substantial paychecks in the 2008 futurities. CD Lights babies made their earliest impression in the NCHA show pen, but quickly crossed over to also assert themselves in the demanding triathlon of reined cow horse competition. Hansma has continued his role in CD Lights' career by training and showing his offspring to major titles in cutting and reined cow horse, winning the 2013 NRCHA Snaffle Bit Futurity Limited Open Championship on Bossy Brother (CD Lights x Diamonds Sparklette x Genuine Doc), a gelding he owns with Motes.
The leading reined cow horse performer by CD Lights is CD Dee Vee Dee, with $201,627 in lifetime NRCHA earnings. CD Dee Vee Dee was bred by NRCHA Hall of Fame member Carol Rose, and is owned by NRCHA Million Dollar Rider Jay McLaughlin and his wife, Wendy. Jay and his son, Cutter McLaughlin, have shown CD Dee Vee Dee for the majority of his career.
In official recognition of CD Lights' Million Dollar Sire achievement, he will be honored during a special presentation at the 2017 NRCHA Snaffle Bit Futurity in Fort Worth, Texas.
The top five NRCHA money-earners sired by CD Lights are all out of daughters of another NRCHA Million Dollar Sire, Shining Spark:
1. CD Dee Vee Dee (CD Lights x Shiners Missy Jay x Shining Spark) 2005 gelding: $201,627
2. That CD Rocks (CD Lights x Shiney Tari x Shining Spark) 2005 stallion: $129,251
3. Step To The Light (CD Lights x Shinersdiamondjackie x Shining Spark) 2013 stallion: $63,612
4. Cashed My CD (CD Lights x Shiney Sushi x Shining Spark) 2012 stallion: $47,884
5. Mini Hot Flashes (CD Lights x Shiners Hot Flash x Shining Spark) 2011 mare: $47,638
2015 NRCHA Snaffle Bit Futurity Intermediate Open Champion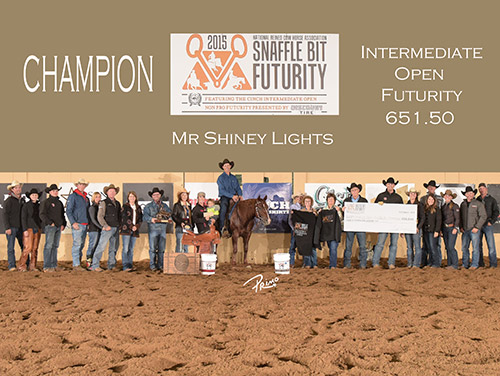 Nicholas Barthelemy won go-round money in the Open and won the Intermediate Open Finals with a composite score of 661.5, a 7.5-point lead on his competitors. He was riding Mr Shiney Lights (CD Lights x Lil Miss Shiney Chex x Shining Spark). The pair picked a total of $32,900 for owner Sheri Jamieson, along with saddles, trophies, buckles, hats, jackets, etc. The check made him the eighth leading money earner of the Futurity. He also was quick to thank his wife Stacy who "is up early every morning at the barn."
2013 NRCHA Futurity Limited Open Champion - Bossy Brother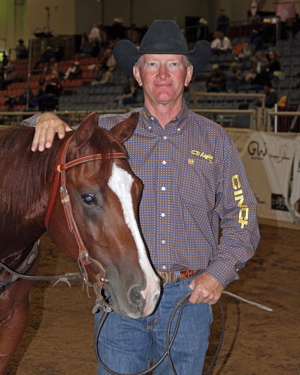 Winston Hansma, Weatherford, Texas, removed his National Cutting Horse Association Futurity Open Championship buckle from his belt – and replaced it with his brand-new National Reined Cow Horse Association Futurity Limited Open Championship buckle. Hansma piloted Bossy Brother (CD Lights x Diamonds Sparklette x Genuine Doc), a stallion bred by Carol Rose and owned by Hansma and Danny Motes, to a 650.5 composite score (218 herd/214.5 rein/218 cow).
It was the second time for Hansma, a veteran cutting horse professional, to show a Snaffle Bit Futurity horse. The first time was in 2010.
"I've been involved with pretty much every discipline except gaited horses at one time or another. I did a little cow horse in Canada before I started cutting. I've always appreciated the horsemanship skills involved in training reined cow horse. To me, they're the true horsemen. There are some good horsemen in the cutting industry, but it doesn't matter what lead youre on. We just train cutting horses. These guys are horsemen and I have a real appreciation for that term," he said.
Bossy Brother is sired by Hansma and Motes's stallion, CD Lights, and out of a full sister to Rose's leading sire, Shining Spark. Although Hansma said he felt under-prepared to compete at the Snaffle Bit Futurity, Bossy Brother rose to the occasion with some big scores in the herd and fence work.
"I was really pleased with him. He was on his game today. He's good on a cow," Hansma said.
The Championship also came with a Bob's Custom Saddle Sponsored by Flagg Ranch/Larry Rice; a custom Saddle Rack Sponsored by Sunmoon Ranch; a Gist Custom Buckle sponsored by Doug Granade; a Cow Trac system sponsored by Cow Trac; a CR Morrison Trophy from NRCHA; a 30x Hat from JW Brooks Custom Hats; a polar fleece cooler from Classic Equine; a monogrammed Cinch jacket from Bob's Custom Saddles/The New West; Platinum Equine from Platinum Performance; and Back On Track product from Back On Track.
CD Headlight in the Spotlight!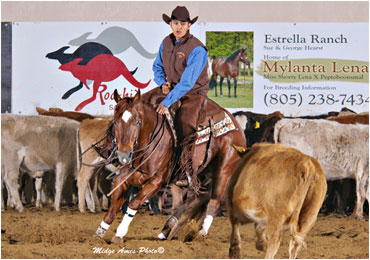 After the crazy excitement of the Open Finals on Saturday night, the cutters were a little more subdued and the parking lots were beginning to clear of trailers and motor homes. Sunday started with the $50,000 Amateur Classic/ Challenge of 11 riders on 5 and 6 year old horses. Spookys Smarty Rey, shown by Tom Bailey was the first to go and scored a neat 216.
The next horse in the herd was the sorrel gelding CD Headlight (by CD Lights) ridden by Stephen S5ilva of Atascadero, CA. CD Headlight marked a 217. He waited through the next 9 horses to see the results of his effort, and lo and behold he emerged the reigning 2011 Champion $50,000 Amateur Classic/Challenge. Steve works with trainer Morgan Cromer, the now 2011 Open Futurity Champion, and he said that Morgan bought the horse for him. He has been in the finals of every aged event he has entered, such as the Texas Super Spectacular.
Steve has only been cutting for about 2 years, but he used to show reined cow horses. He grew up in Brawley, CA. and is now a live- stock feed broker. Of his work at this show he said, "It's been a blast." He particularly wanted to thank Morgan and her crew of Jake Pinheiro and Lindsey Milner. Steve picked up a check for $2,626. On top of that he also won the Amateur Finals for $2,238 and the Gelding division for another $2,120. CD Headlights total winnings for this show were $6,984! Way to go Steve!
Willys The Boss Reserve Champion in the NCHA Non Pro Super Stakes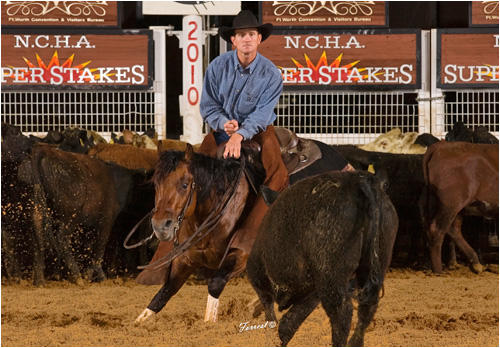 Willys The Boss and Dean Holden finished at the Reserved Champions in the NCHA Super Stakes Non-Pro with a 215. Holden and Willys The Boss (CD Lights x Willy N Tivio Babe) earned $23,364 by placing third in the Super Stakes Non-Pro. They also won the Super Stakes $10,000 Novice and picked up an extra $6,484. Willys The Boss was a Non Pro Finalist at the 2010 Abilene Spectacular and a Non Pro Semi Finalist at the 2009 NCHA Futurity, where he had the highest combined score of 435 from the go rounds. His lifetime earnings now exceed $41,200.
Ron Ralls Wins 2010 NRCHA Open Stakes on CD Dee Vee Dee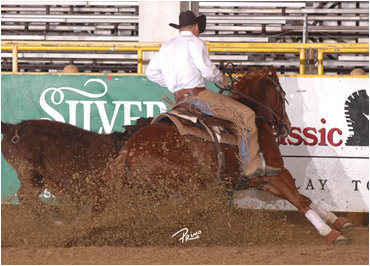 The Finals of the 2010 National Reined Cow Horse Association Stakes were held on Sunday, March 28, at the Idaho Horse Park in Nampa, Idaho. Ron Ralls, showing CD Dee Vee Dee for Shannon and Hershel Reid, won the Stakes title, worth $29,250.
Ralls and the 5-year-old gelding began with a 215 in the herd work, but came back strong with a 226 in the rein and 225 in the fence work. "He was real nice in the herd work. He just does it in the rein work. He just goes out there and when you send him down the pen, the harder you send him, the harder he stops," Ralls said. "I didn't stay very long on the end in the cow work, and we had a big first turn. It was just his typical deal – or what seems to be."
If Ron seems to be learning about CD Dee Vee Dee, it's because he's only been riding the 5-year-old gelding, by CD Lights out of Shiners Missy Jay, for a little over a month. The Reids purchased CD Dee Vee Dee from Carol Rose, whose head trainer, Jay McLaughlin, showed the horse at the NRCHA Celebration of Champions, winning the Circle Y Ranch Derby and the Open Hackamore World Championship."He's a funny horse. He just goes out and does his job. I guess that's what I like most about him."
This Championship Win put CD Dee Vee Dee's LTE at over $112,000.00
Jay McLaughlin Wins 2009 Open Hackamore World Championship with CD Dee Vee Dee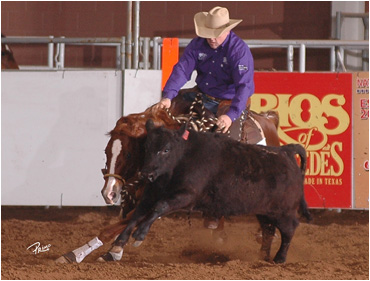 The 2009 National Reined Cow Horse Association Open Hackamore World Championship went to Jay McLaughlin and CD Dee Vee Dee, who marked a 151 to win the World Champion Title. It was a bittersweet win for McLaughlin, who trained the talented gelding. CD Dee Vee Dee was bred and raised by Carol Rose, for whom McLaughlin is the head trainer. But he was recently sold to Shannon and Hershel Reid – and Jay showed him for the last time in San Angelo, Texas.
The NRCHA World Championship Show Presented by John Deere is held annually in San Angelo, Texas. It also features the NRCHA World's Greatest Horseman, and the Circle Y Ranch Southwest Reined Cow Horse Association Derby. Earlier in the week, McLaughlin showed the CD Lights gelding, out of Shiners Missy Jay, to the Circle Y Ranch Open Derby Championship.
On Finals day for the World Championship Open Hackamore Class, the successful duo trotted into the arena, and paused for a long time in the middle of the arena. "We were there for a long time. We had a conversation. I told him it was a pleasure to train him and I just needed one more run. He took a big old breath, and then he did it!" McLaughlin added, "I have no idea how we did it. He was awesome. There was not one thing I'd change about anything."
The competition was deep, with many fans commenting that it was the toughest Hackamore class they had ever seen.
Along with the large check, McLaughlin received a Bob's Custom Saddle sponsored by Jackson Land & Cattle Company, a Gist Silversmiths buckle sponsored by Knight Haulers, Rios of Mercedes boots from Rios of Mercedes, a commemorative World Finals vest sponsored by Gist Silversmiths, a CR Morrison trophy and a CR Morrison commemorative medallion.
Jay McLaughlin Wins Circle Y Ranch SRCHA Derby on CD Dee Vee Dee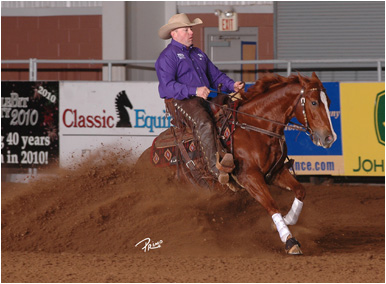 Jay McLaughlin, of Gainesville, Texas, rode CD Dee Vee Dee to win the Circle Y Ranch Southwest Reined Cow Horse Association Open Derby, held during the Fort Dodge Animal Health Celebration of Champions in San Angelo, Texas. The win garnered a check for $10,000.
McLaughlin and the 5-year-old CD Lights gelding, out of Shiners Missy Jay, began the weekend with a 145 in the herd work, and a 150.5 in the rein work. "He was really good in the herd work, and pretty much did it all by himself," said McLaughlin. "In the rein work, he was just phenomenal – he was like he always is."
Going into the cow work, McLaughlin was in a three-way tie for the lead – but knew that it would all come down to the cattle. "I remembered the steer from earlier in the week – he wasn't too bad in the herd work. When he came out I had a feeling that if I got control of him, he was the one I could win it on," he explained. "My horse was so ready. I hadn't schooled on him for four days, and he was as good as gold." McLaughlin's resulting score of 151 was the highest of the day, and he won the title by three points with a 446.5 composite
CD Dee Vee Dee was bred and raised at Carol Rose Quarter Horses, where McLaughlin works as head trainer. Although recently purchased by Shannon and Hershel Reid, of Pilot Point, Texas, he will be shown in the Open Hackamore of the NRCHA World Championship Show with McLaughlin. "He's definitely one of my favorites. They broke the mold when they made him," he said.


Too Bossy and Julie Hansma win 2009 Music City Non-Pro Derby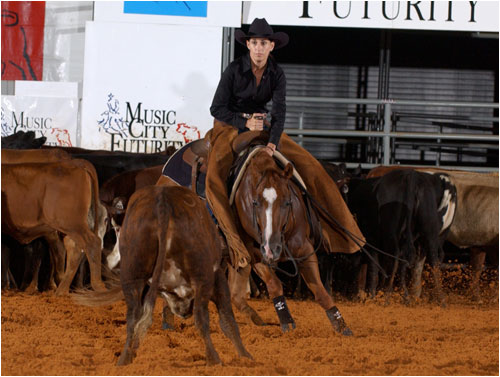 Too Bossy and Julie Hansma won the 4 Year Old Non-Pro title with a 216 to earn $18,310 at the Music City Futurity in Franklin, Tennessee.
Hansma, from Weatherford, Texas, and Too Bossy marked their winning 216 from the Number 1 draw and no duo in the 10-horse finals came within two points of it. Winston Hansma trained Too Bossy (CD Lights x Susans Replay x Freckles Playboy), and guided his sire CD Lights to the 2006 NCHA World Champion stallion title. Julie had competed with Too Bossy at only one prior show. Mica Chartier rode him to the 2008 NCHA Futurity Non-Pro Finals and 2009 Bonanza Finals.

"I had shown him at the NCHA Derby in July, and made the Semi-Finals," Julie said. "I couldn't ask for a better horse. He's really trained and he's really easy to ride." This brings Too Bossy's lifetime earnings to over $40,000.

Ed Robertson Wins 2009 NRCHA Stakes Open Championship on That CD Rocks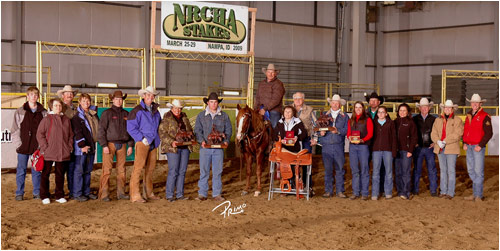 In just one day of competition at the 2009 National Reined Cow Horse Association Stakes, Ed Robertson piloted That CD Rocks to win $39,672. He accomplished that feat by topping both the Open and Intermediate Open divisions with a score of 651.
"We started out just flat in the herd work, and couldn't cut a cow that would challenge us," Robertson admitted about his score of 212 in the first phase of finals competition – but that low score combined with a 219 in the reining, and put him and the CD Lights stallion back into contention for the title. "It was cold and windy today, and he was pretty strong. I just rolled with him and he worked."
It all came down to the cow work, with Robertson and That CD Rocks drawing up in the middle of the second set. The Paso Robles, California, trainer admitted that the cow work can sometimes work against him at big events – he and That CD Rocks missed the Open finals at the 2008 NRCHA Snaffle Bit Futurity because of a difficult bovine, but made the Intermediate finals and won that title.
"I was really happy with the cow. This horse is very talented in every dimension of this competition. He just has that presence that makes him special," Robertson explained after the awards ceremony.
That CD Rocks, by CD Lights and out of Shiney Tari, is owned by Robbie Humphreys of Clovis, California.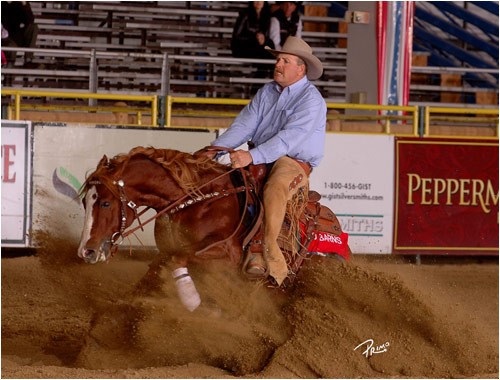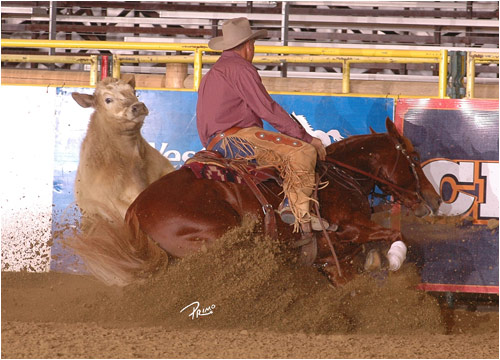 Three CD Lights advance to the NRCHA Derby Open Finals!
Three of CD Lights first limited foal crop of four year olds were entered at the 2009 NRCHA Derby in Reno, Nevada, all three horses advanced to the Open Derby Finals.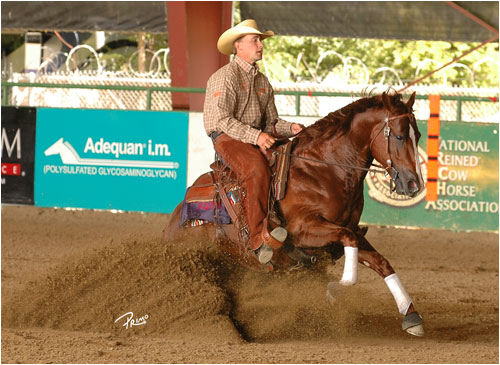 Finishing 3rd and winning $27,761 was the stallion Lights R Red, trained by Todd Bergen and owned by Eric Storey. Lights R Red is out of Storey's mare Genuine Rosebud, mother to his stallion, Nic It In The Bud. Bergen and Lights R Red were consistent through both the Preliminary Rounds and the Finals, marking 219.5 on each of his Rein works.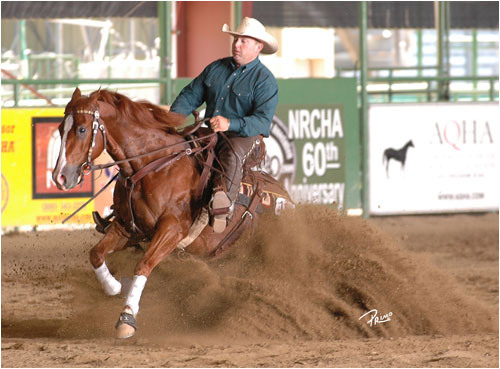 CD Dee Vee Dee tied for 7/8 place earning $10,863. The gelding, owned by Carol Rose and trained by Jay McLaughlin, is out of Shiners Missy Jay, daughter of Carol Rose's legendary stallion Shining Spark. CD Dee Vee Dee and McLaughlin were high score of the Preliminary Rein work, marking a 223 as well as high score of the Finals Reining with a 221.5. The geldings LTE is now $26,757.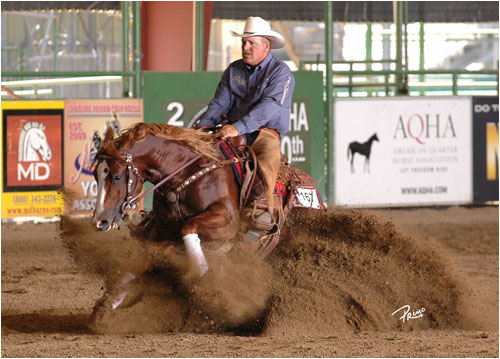 That CD Rocks, who was the Champion of the NRCHA Open Super Stakes, finished 14th after losing a cow during the herd work. The flashy sorrel stallion is owned by Robbie Humphreys and trained by Ed Robertson. His dam, Shiney Tari, is also by Shining Spark. Adding $5,774 to his prior earnings, That CD Rocks now has LTE of over $99,000, making him the highest earning performer from CD Lights first crop.